Annual event of the Open & Agile Smart Cities (OASC) network, bringing the community of members and partners together, open for all to join
Join us for three days of engaging workshops and sessions on solutions, concerns and visions that cities have come across on their digital transformation journey. CxC Festival 2022 brings the OASC community and new friends together – in a hybrid event format in Brussels, Belgium, and wherever in the world you are.
The hottest topics in the digital transformation as seen from the ground, from the cities and communities we all live in: data spaces, local digital twins, digital underpinnings of the green transformation, safety, security, trust, AI, standards and, of course: MIMs – Minimal Interoperability Mechanisms.
You can jump in and out of short, focused sessions, join the conversations in workshops and roundtables or simply reap the benefit of the learnings of your peers. All sessions are open for everyone.
Here's the programme for CxC 2022 at a glance.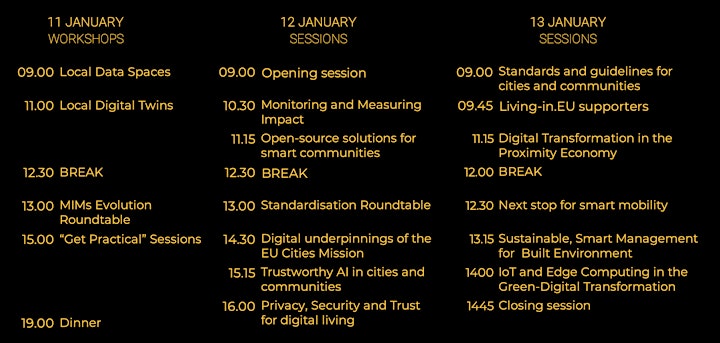 We hope the health situation will allow us to meet with members and partners at the traditional dinner, and to go live on the ground in Brussels in front of an audience, but we're happy to have you join us online.
A detailed programme will be published shortly. A Zoom link will be sent to participants closer to the event date. See you soon!
Register here: CxC Festival 2022 Tickets, Tue, Jan 11, 2022 at 9:00 AM | Eventbrite